Mobile Food Pantry
In partnership with Trinity Lutheran Church and Compassionate Ministries, a monthly event providing food for Jackson area families is held. This free event seeks to demonstrate God's love to the people of Jackson by supporting them when they face food insecurity. Additional giveaways of school supplies, hygiene items and other necessities are provided in conjunction some months. If you'd like to get involved please contact Craig Britton.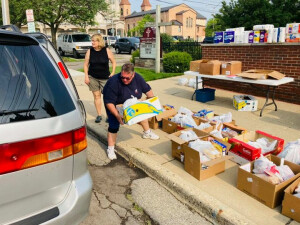 Quilters
Individuals interested in making quilts that are distributed to area hospitals, organizations, and Lutheran World Relief are invited to join the Quilters who meet 9 a.m. - noon on the 2nd and 4th Wednesdays of each month. If you'd like to get involved please contact Craig Britton.
LWML
The Lutheran Women's Missionary League (LWML) is the official women's auxiliary of The Lutheran Church—Missouri Synod. For 75 years, the LWML has focused on affirming each woman's relationship with Christ, encouraging and equipping women to live out their Christian lives in active mission ministries and to support global missions. For more information regarding Redeemer's group, contact Craig Britton.
Rummage Sale
Annually, a rummage sale is held at Redeemer to benefit local needs. Donations of items are accepted. Helping hands are needed throughout the week leading up to the sale. Contact Craig Britton for more information.
Together We Can Make a Difference
The mission of Together We Can Make a Difference is to make a difference in the Jackson community by connecting needs with resources; partnering with churches as points of contact; and sharing the Gospel of Jesus Christ as it serves its neighbors as a resource center. For more information, click here.
Overseas Missionaries
Rev. David & Joyce Erber are based in Accra, Ghana, West Africa.
Other Organizations
Concordia Center for the Family