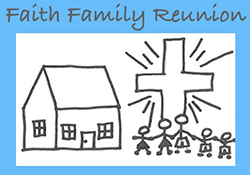 Saturday, June 29, 2019, 9:00 AM - 3:00 PM
For Congregation Members, Pastors & Church Leaders
When children have left the church and faith in Jesus Christ, parents that are left behind often find themselves feeling isolated and alone. The feelings of guilt and shame can become overwhelming as they wonder what they did wrong, could have done better or what they failed to do. The end result makes parents feel as though they are living solo with the need to carry this burden on their own.
We invite you to begin the journey of discovery together with us in a one-day retreat and other like-minded parents, as we explore the notion that we might all share similar stories and that maybe we are really not alone on this road.
During this retreat, we hope to provide you a warm, comfortable, loving and non-threatening environment where you might feel the freedom to express yourself. We hope that this time together can maybe "little by little" break down the walls of shame and secrecy. As we join together with one another we hope to create a community within the church family, for you where you feel safe to open up a dialogue and begin the conversation with others.
We are not going to "tell you what to do" or "tell you what you could have done better" but rather offer you a time where you can hear from a prodigal that has returned to the faith and to be surrounded by other parents going through similar situations in life. Our goal is to have you leave with hope, realizing that you are not alone and maybe even forming new friendships.
Help families' welcome home family members who have wandered away.
Paula Isakson (Founder of Faith Family Reunion) will share the Faith Family Reunion her story and touch on the curriculum that she and her father Dr. Jakob K. Heckert (Co-Founder and Theological Editor) which they developed together ,that addresses the subject matter head on. Additional resources will be presented from the Faith Family Reunion interactive website: www.faithfamilyreunion.com.
Includes a continental breakfast and lunch. Cost is $10 payable to Redeemer Lutheran Church, 3637 Spring Arbor Road, Jackson, MI 49201.